Gentle Warrior - The Album
---
"Jont's songs are the medicine the world needs right now. Rooted in the experience of love and the healing of trauma, they are deeply personal and yet genuinely universal." 
On May 22nd 2019, Jont released his ninth and most profound album to date, Gentle Warrior. A healing musical meditation, it features nine stunningly intimate songs, all performed live on a nylon-string guitar with no additional production. 
"The arrangements on this album" says Jont, "are as simple as possible so as not to distract from the pure, melodic, and energetic message of each song, exactly as it came through, one winter evening in a small recording studio in Nova Scotia."
The video for the song Birdwatching was released simultaneously via YouTube. This visually stunning but at times confronting piece set in a small Ethiopian village is directed by long-time collaborator and UK film-maker, Simon Ratigan, who worked with Jont on the award-winning Superstar.
To promote this and upcoming albums Jont will be touring a new live concept which he calls the Gentle Warrior Sacred Song Ceremony. Held in yoga centres rather than conventional music venues, audiences are invited to share a sacred elixir of Cacao (i.e., chocolate) and to give their complete attention and commitment to the music for the duration of the event. This creates a more profound live music experience which fulfills the healing potential of the songs. (*See the "What is a Gentle Warrior Ceremony" video below.)  For upcoming Tour Dates click here and see tour dates below.
Since two songs from his album Supernatural were featured on television show Grey's Anatomy in 2009, Jont has had a dedicated global audience who he now connects with personally via his irreverent live-streamed shows (e.g., At Home With Jont)  He loves engaging with his fans through live shows or via his subscription website where exclusive content, live streamed shows and artist access invite a new level of community and connection.
 
"

Five words sum up Jont's music: Raw. Love. Beauty. Redemption. Transformation."
— Rosalind
"

Amazing new album. Sweet, intimate, full of heart. "
— Peter
"

Jont's music is like taking a long deep drink from the well of life itself. It renews and refreshes."
— Kathy
"

This music is for opening the heart, for healing and for remembering that beauty, magic and love always reside under the surface of everything, even if sometimes we can't feel it there."
— Diana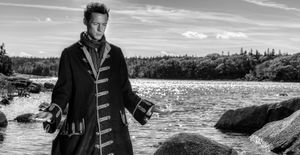 GENTLE WARRIOR SACRED SONG CEREMONY TOUR 2020