More About The New Video For Birdwatching
Some songs (as you might have noticed by now) I like to have a second go at. With Birdwatching, as those of you who have heard the new album will know, I thought it would be a shame to only have the very sparse, intimate version that is on Gentle Warrior. So with a lot of help from my friends (massive thank you to string maestro Oli Langford and Piano genius Bob Sherwood) we produced the lush, orchestrated version that is on Thank You For The Medicine.
Seeing that it's such a popular song, I really wanted to make sure we had a video for it. Happily music video director, Matthew Ingraham, invited me to come up to where he's from in Cape Breton and shoot something in what is often talked about as the most beautiful region of Nova Scotia.
We are pleased to release the new video for Birdwatching. There are a few more details about it below. If you like it and enjoy the song, then please do send it on to your friends or post it on social media. As you know, word of mouth about things you love is a kindness!
Jont XX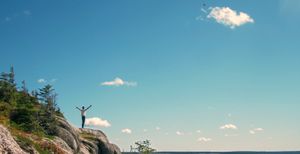 INSPIRED BY THE BEAUTY OF THE CAPE BRETON HIGHLANDS
On March 24, 2021, Halifax-based singer-songwriter, Jont, releases a new video for the song "Birdwatching" - a sumptuous, visual feast directed by Cape Breton's Matt Ingraham set in the stunning landscape of his Highlands homeland. It's the seventh and final video release from Jont's timely, life-enhancing and effervescent album, Thank You For The Medicine, which Bob Mersereau proclaimed to be "musical medicine to turn your 2020 around".
East Coast Music Hour's Bill Roach posted the video with a warning to Cape Bretoners far from home not to watch in case they missed home too much when they saw it. 
The imagery and music of Jont's new video "Birdwatching" elicit strong emotions. Matt Ingraham, the video's director, sees the video as a hero's journey in a song. "I tried to portray Jont in two worlds of experience in the video; one of a dream state of bliss, exploring the magic of the highlands of Cape Breton, and the other being the dreadful reality of everyday life, shot in the post-industrial town of Sydney, says Matthew. "It really showcases the range of beauty that the island holds."